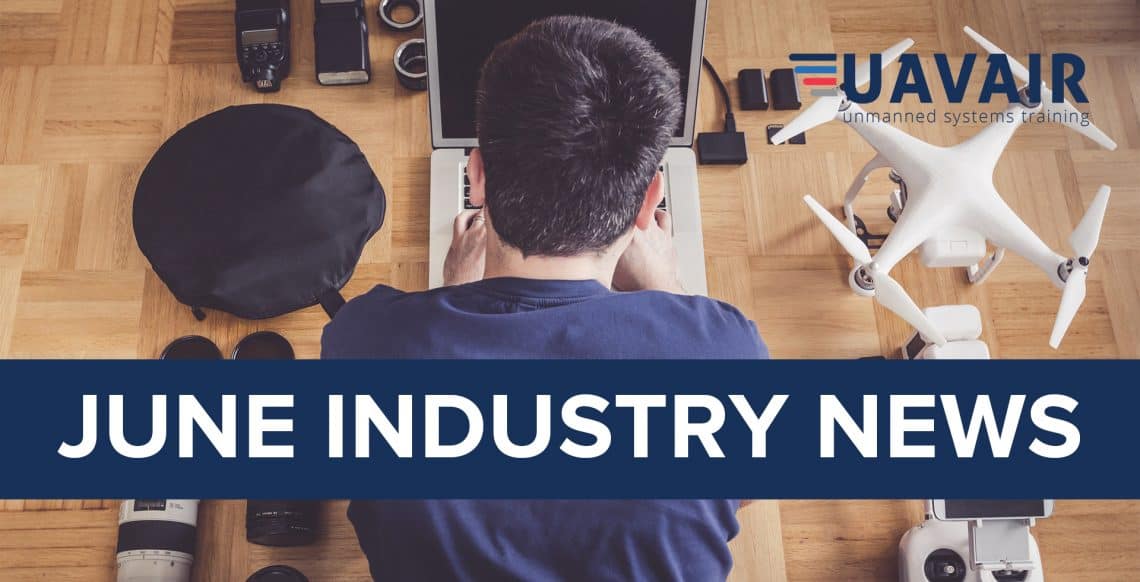 1) Search and rescue workers in the US have used a drone to spot lost hikers. The two men and their dog found themselves lost while hiking. The group called emergency services and a rescue team arrived in the area.
The team searched with a drone, until they located the lost hikers within two hours, the team then reached the lost hikers by foot. Utilising drones in search and rescue is proving to be a popular alternative to helicopter searches, as a cheaper and more accessible solution to responding to certain emergencies, such as lost hikers. (16 June 2017)
Read more: http://kdvr.com/2017/06/16/search-and-rescue-team-uses-drone-to-recover-missing-hikers/
2) The Australian recently published an article titled "Limits loom for drone users, as CASA releases review terms of reference".
The article discussed the idea of requiring drone users to register their devices as well as utilize technology that can curb where users can fly their drones.
The Civil Aviation Safety Authority are reviewing the current regulations and said it would look at the benefits of mandatory registration as well as training for operators of remotely- piloted aircraft systems.
CASA will also explore geofencing, a technology which stops drones from flying into restricted areas. Darren Chester, Infrastructure and Transport Minister, said " (the Government) is committed to fostering an environment that ensures the safety of commercial and privately-owned aircraft, drone operators, and other people and property, while facilitating growth and innovation in the use of drones in Australia". (15 June 2017)
Read more: http://www.theaustralian.com.au/business/aviation/limits-loom-for-drone-users-as-casa-releases-review-terms-of-reference/news-story/68ee9de841ae93516b75a6b3bc5aec68
3) The Swiss Federal Institute of Technology (EPFL) has successfully developed a prototype of a smart jacket that could potentially substitute for traditional drone controls, which would allow pilots to control drones in a completely different way.
To make this possible the jacket is fitted with sensors that can detect the pilot's movements, which are translated into commands. A virtual reality headset is used to give the pilot the sensation of operating a real machine.
The jacket is still in its preliminary testing phase but results so far have been positive and well received. The company say operating a drone through body movements—leaning to one side or another, spreading one's arms, etc.—rather than pushing buttons, allows for more precise and effective results. (14 June 2017)
Read more: http://www.thedrive.com/aerial/11463/new-smart-jacket-controls-drones-with-full-body-movements
4) A good news story that has come out this month is around the Government of Vanuatu's plan to trial drones to deliver life saving vaccines to inaccessible communities with Vanuatu, in conjunction with the United Nations Children's Fund.
This project is likely to be the first ever trial of utilizing RPA technology to deliver life saving vaccines in the Pacific. (14 June 2017)
Read more: http://www.un.org/apps/news/story.asp?NewsID=56968#.WUHZDxPyufQ
5) A team of Swedish scientists from the Center of Resuscitation Science at the Karolinska Institute have been researching the benefits utilizing drones to deliver life saving automated external defibrillators (AED's).
In their study, they compared the time taken by ambulances to arrive at an emergency compared to the drone delivery times, in a simulated study. This could potentially be a great response solution for heart attack patients who aren't near a hospital. The theoretical RPA would be equipped with automated external defibrillators (AEDs)—the devices that can shock a heart under cardiac arrest back into its original rhythm, and also provides bystanders with clear instructions on how to use the device. (13 June 2017)
Read more: http://fortune.com/2017/06/13/drone-heart-attack-ambulance/
6) The engineering and construction industries are seeing benefits for drones using AI. The usage of drones is growing at a rapid rate, from backyard hobbyists, Hollywood cinematographers, through to a productivity tool for the construction and engineering industries.
The productivity derived from RPAS in these industries are being felt through the connection between the drones and other technologies that is permitting things to be done more efficiently than ever. The companies who are making use of this new data are most likely to survive in a wave of disruption in the still-traditional games of construction and technology. (13 June 2017)
Read more: http://www.afr.com/business/construction/drones-using-ai-bring-productivity-gains-for-engineering-and-construction-20170511-gw2v40
7) Earlier this month DJI announced the release of their cheapest drone, the Spark. This drone is target at the consumer market, with a price point of $895 in Australia. The Spark is gesture driven. By giving it two taps it will take off from the palm of your hand. Customers are also able to use gestures to get the Spark to take a selfie, return to their hand and end a flight. (30 May 2017)
Read more: http://www.theaustralian.com.au/business/technology/dji-brings-cheap-gesturecontrolled-spark-drone-to-australia/news-story/a3e843799a06f30fb56954fad4c8caf8
8) NASA are working on a project to help drones crash land in the most desirable places. With an ever increasing number of drones in the sky, the risk of people and property below being hit by a falling drone with mechanical problems is also increasing.
NASA is building technology that will assist drones to automatically spot the best places to crash land, without hurting anyone on the ground. The software was developed based on eight test flights, the technology has successfully spotted safer landing zones for drones, looking for the likes of lakes or drainage ditches, avoiding people and property. (28 May 2017)
Read more: http://fortune.com/2017/05/28/nasa-drone-crash-land-software/
9) A new mobile app has been released by CASA (Civil Aviation Safety Authority), called "Can I Fly There". The app has been released with the hope of educating UAV hobbyists and those operating under the sub 2kg regulations.
"Can I Fly There" gives users information around no fly areas, that show users where airports and restricted flight areas are located. (26 May 2017)
Read more: http://www.abc.net.au/news/2017-05-26/mobile-phone-app-can-i-fly-there-for-drone-pilots-released/8563826
10) JD.com, China's biggest online retailer has unveiled plans to build a mega drone that is capable of carrying over a ton of goods on long distance deliveries.
JD.com will soon start testing the prototype in the Northern Chinese province of Shaanxi to carry consumer goods to remote areas and farm produce to cities. The company started making deliveries back in November 2016, using smaller drones. (23 May 2017)
Read more: http://www.news.com.au/finance/small-business/mega-drones-are-the-future-of-retail/news-story/04c98dd79057884d5e980f316416bb4b