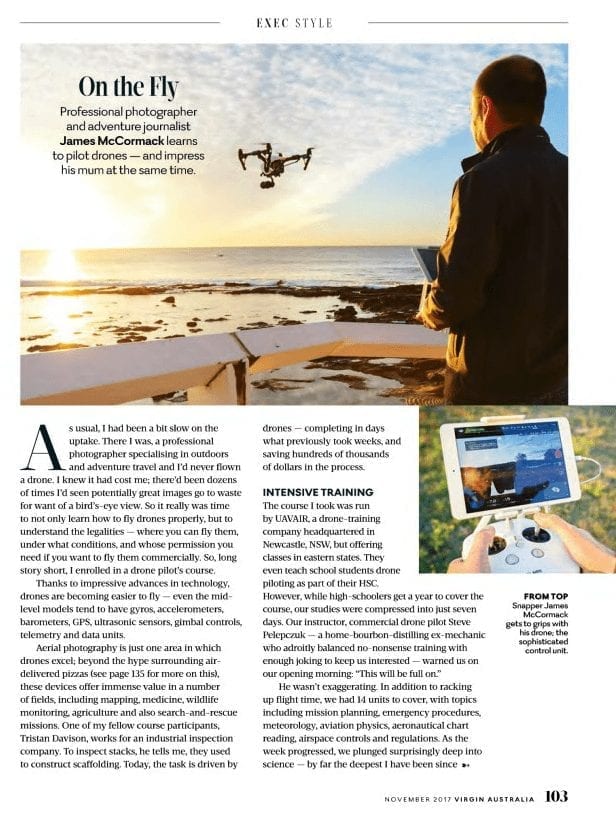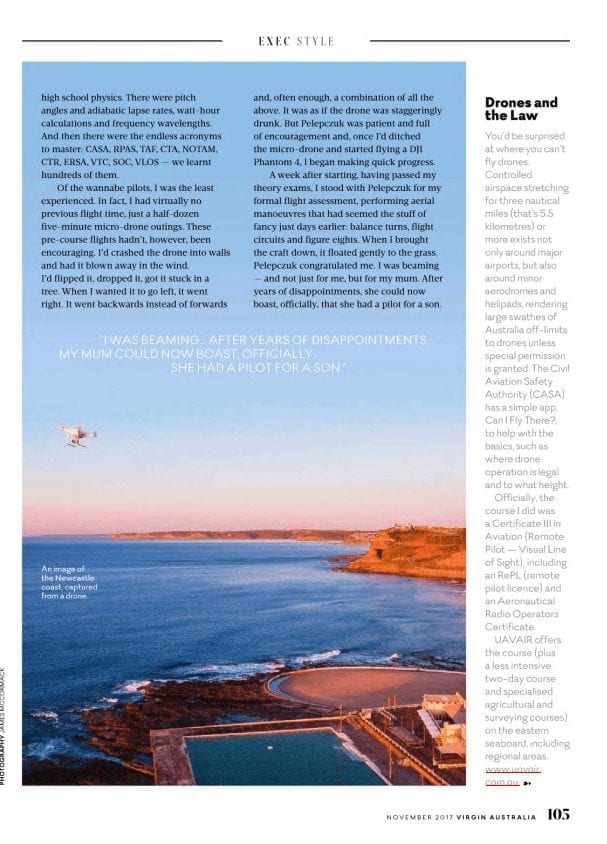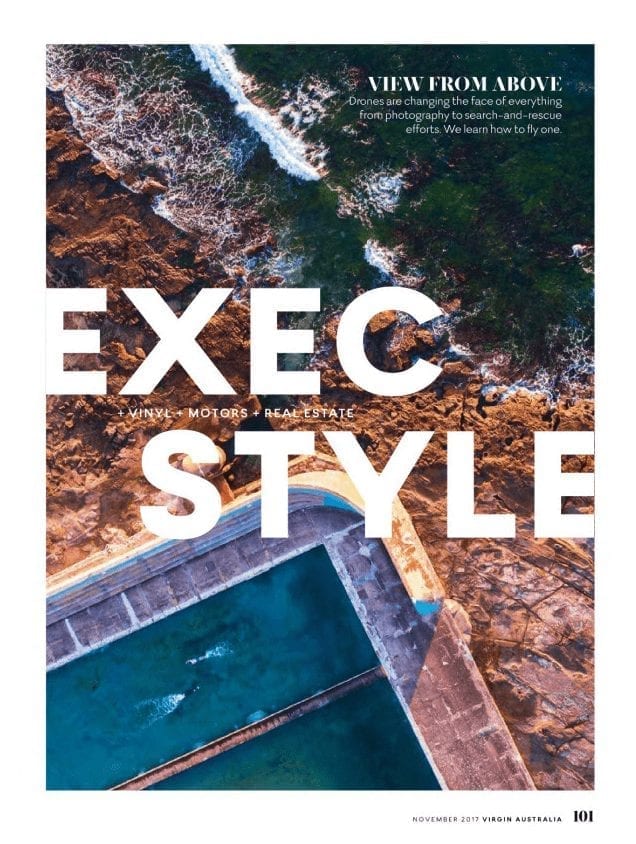 Recently Virgin's head adventure photographer completed our Certificate III in Aviation course. You can read about his experience on our seven day course in Virgin's inflight magazine, online here or read the article below:
On The Fly
Professional photographer and adventure journalist James McCormack learns to pilot drones — and impress his mum at the same time.
As usual, i had been a bit slow on the uptake. There I was a professional photographer specialising in outdoors and adventure travel and I've never flown a drone. I knew it had cost me; there'd been dozens of times I'd seen potentially great images go to waste for want of a bird's-eye view. So it really was time to not only learn how to fly drones properly, but to understand the legalities — where you can fly them, under what conditions, and whose permission you need if you want to fly them commercially. So, long story short, I enrolled in a drone pilot's course.
Thanks to impressive advances in technology, drone are becoming easier to fly — even the mid-level models tend to have gyros, accelerometers, barometers, GPS, ultrasonic sensors, gimbal controls, telemetry and data units.
Aerial photography is just one area in which drones excel; beyond the hype surrounding air-delivered pizzas (see page 135 for more on this), these devices offer immense value in a number of fields, including mapping, medicine, wildlife monitoring, agriculture and also search-and-rescue missions. One of my fellow course participants, Tristan Davison, works for an industrial inspection company. To inspect stacks, he tells me, they used to construct scaffolding. Today, the task is driven by drones — completing in days what previously took weeks, and saving hundreds of thousands of dollars in the process.
Intensive Training
The course I took was run by UAVAIR, a drone-training company headquartered in Newcastle, NSW, but offering classes in eastern states. They even teach school students drone piloting as part of their HSC. However, while high-schoolers get a year to cover the course, our studies were compressed into just seven days. Our instructor, commercial drone pilot Steve Pelepczuk — a home-bourbon-distilling ex-mechanic who adroitly balanced no-nonsense training with enough joking to keep us interested — warned us on our opening morning: "This will be full on."
He wasn't exaggerating. In addition to racking up flight time, we had 14 units to cover, with topics including mission planning, emergency procedures, meteorology, aviation physics, aeronautical chart reading, airspace controls and regulations. As the week progressed, we plunged surprisingly deep into science — by far the deepest I have been since high school physics. There were pitch angles and adiabatic lapse rates, watt-hour calculations and frequency wavelengths. And then there were the endless acronyms to master: CASA, RPAS, TAF, CTA, NOTAM, CTR, ERSA, VTC, SOC, VLOS — we learnt hundreds of them.
Of the wannabe pilots, I was the least experienced. In fact, I had virtually no previous flight time, just a half-dozen five-minute micro-drone outings. These pre-course flights hadn't, however, been encouraging. I'd crashed the drone into walls and had it blown away in the wind. I'd flipped it, dropped it, got it stuck in a tree. When I wanted it to go left, it went right. It went backwards instead of forwards and, often enough, a combination of all the above. It was as if the drone was staggeringly drunk. But Pelepczuk was patient and full of encouragement and, once I'd ditched the micro-drone and started flying a DJI Phantom 4, I began making quick progress.
A week after starting, having passed theory exams, I stood with Pelepczuk for my formal flight assessment, performing aerial manoeuvres that had seemed the stuff of fancy just days earlier: balance turns, flight circuits and figure eights. When I brought the craft down, it floated gently to the grass. Pelepczuk congratulated me, I was beaming — and not just for me, but for my mum. After years of disappointments, she could now boast, officially, that she had a pilot for a son.
Drones and the Law
You'd be surprised at where you can't fly drones. Controlled airspace stretching for three nautical miles (that's 5.5 kilometres) or more exists not only around major airports, but also around minor aerodromes and helipads, rendering large swathes of Australia off-limits to drones unless special permission is granted. The Civil Aviation Safety Authority (CASA) has a simple app, Can I Fly There?, to help with the basics, such as where drone operation is legal and to what height.
Officially, the course I did was a Certificate III in Aviation (Remote Pilot – Visual Line of Sight), including an RePL (remote pilot licence) and an Aeronautical Radio Operators Certificate.
UAVAIR offers the course (plus a less intensive two-day course and specialised agriculture and surveying courses) on the eastern seaboard, including regional areas. www.uavair.com.au